Nevada County is home to, wait for it… not one, not two, not even three but count them FOUR California State Parks. And all within a short walk or drive to our quaint historic downtowns. Meaning you can have the best of all worlds – restaurants, nightlife, lodging AND outdoor fun.
The mission of California State Parks is "to provide for the health, inspiration and education of the people of California by helping to preserve the state's extraordinary biological diversity, protecting its most valued natural and cultural resources and creating opportunities for high-quality outdoor recreation."
Family-friendly and accessible, the state parks found in Nevada County give a range of opportunities to explore our region's rich culture, natural wonders, and heritage. Whether you're looking to observe plants and wildlife, go birdwatching, hit the trails, spend a day at the beach, or sign up for a guided history tour, our state parks have it all.
Fees And Passes
If you are a frequent state park visitor, be sure to check out other great adventures in our golden state and the perks of the California State Parks Annual Pass Program.
Show Your Love Of Nevada County
Locals care deeply about this landscape. So, we ask you to recreate respectfully and sustainably to ensure Nevada County remains beautiful and wild by following the 7 principles of Leave No Trace. This includes fundamental ideas such as packing out what you pack in. Be mindful of wildlife and nesting birds by keeping your noise level and human footprint to a minimum. This is especially important at the end of spring or the beginning of summer. That's when birds are most vulnerable—and the most defensive. If you are too loud, birds can abandon nests if disturbed or harassed, dooming eggs and hatchlings.
Slow Yer Roll When Visiting Our Parks
Visiting all four state parks in Nevada County is completely possible in one action-packed weekend. But why not give yourself the luxury of slowing down? Make Nevada County your weekend destination for sustainable outdoor tourism, set on repeat. If you want to give back and keep these places beautiful, we suggest signing up for a volunteer day with one of our local nonprofit groups.
South Yuba River State Park
If a lazy day at the river is your jam, make your next stop the South Yuba River State Park. It covers 11,000 gorgeous protected acres along a scenic 20-mile stretch of dramatic granite-carved river canyons and turquoise green water. The park encompasses four historic crossings and the one-of-a-kind Independence Trail.
HQ Of The Yuba
Bridgeport is the headquarters and gateway to this gem of the State Park system. It includes a ranger station and visitor center, beaches, epic wildflower trails with guided tours, a historic covered bridge, and a spooky old family cemetery. The newly restored Bridgeport wooden covered bridge is the longest single-span covered bridge in the world.
Please be aware that during spring and early summer, snowmelt in the high country creates downstream waters that are swift and deadly. Do your homework and know the conditions before you enter the water.
South Yuba River State Park supports an intricate web of plant and animal life. From the wildflowers that cover the hillsides in spring to the multitudes of migrating birds, those make this a key stopover.
Still Wild And Scenic After All These Years
Designated as "Wild and Scenic", the South Yuba River has been saved from several proposed dams over the years. This environmental activism led to the birth of SYRCL (South Yuba River Citizens League and internationally recognized Wild and Scenic Film Festival). In Spring, check with the park's visitor center for popular guided wildflower tours on the Buttermilk Bend Trail.
To learn more about this wildflower hike and others in our county, read Yuba-long Among Wildflowers In Nevada County. We recommend carrying a copy of the book "Trees and Shrubs of Nevada and Placer Counties, California" by California Native Plant Society, Redbud Chapter.
CAUTION! During the summer months, watch out for rattlesnakes and poison oak.
Stop by the Visitor Center for maps, brochures, and nature identification books. Bring exact change for the parking fee. $10 per vehicle Memorial Day weekend through Labor Day Weekend and $5 the remainder of the year.
Learn more here.
Empire Mine State Historic Park
Empire Mine State Historic Park in Grass Valley preserves what was once the richest hard rock gold mine in California. Between 1850 and its closure in 1956, the Empire Mine produced 5.8 million ounces of gold, extracted from 367 miles of underground passages.
A Glimpse Into Gold Rush High Society
Once owned by a wealthy businessman, William Bourn, Jr. The beautiful grounds surrounding the Bourn Cottage offers a glimpse into the high society of the Gold Rush. Walk the heirloom rose gardens, gaze into the reflection pool, and stroll past the fountains and greenhouses that look just as they did in their heyday.
The Visitor Center is filled with interesting interpretive displays and a gift shop. The mine yard allows visitors a close-up look at relics and daily mining life, with a glimpse into underground tunnels. There's even a working blacksmith shop run by park docents.
What's There For Trails
If a nature experience is more your thing, you're in luck! The park encompasses 856 acres of forested backcountry and 14 miles of trails used by mountain bicyclists, equestrian riders, runners, dog walkers, and hikers.
Along this network of trails, look for old mining ruins and rusting hulks of equipment on the altered landscapes, once a complex of several mines. Explore shady groves of Ponderosa pine, Douglas fir, incense cedar, oak, and maple. Bring your binoculars for sightings of numerous species of birds. And remember to go quietly to avoid disturbing wildlife such as deer, fox, coyote, bear, and (gulp) mountain lion.
CAUTION! During the summer months, watch out for rattlesnakes and poison oak.
Stop by the Visitor Center for maps and brochures.
Learn more here.
Malakoff Diggins State Historic Park
Tucked away along a winding road on the San Juan Ridge. This 3,500-acre Malakoff Diggins State Historic Park features a massive abandoned hydraulic mine, miles of forested trails, a fishing pond, a campground, and a charming ghost town known as North Bloomfield.
Located 26 miles Northeast of Nevada City (about a 50-minute drive), the park was created in 1965 by concerned citizens. Their goal was to preserve the story of the country's largest hydraulic gold mining operation, which caused massive environmental devastation to the area in the mid-1800s.
Birth Of California's 1st Environmental Law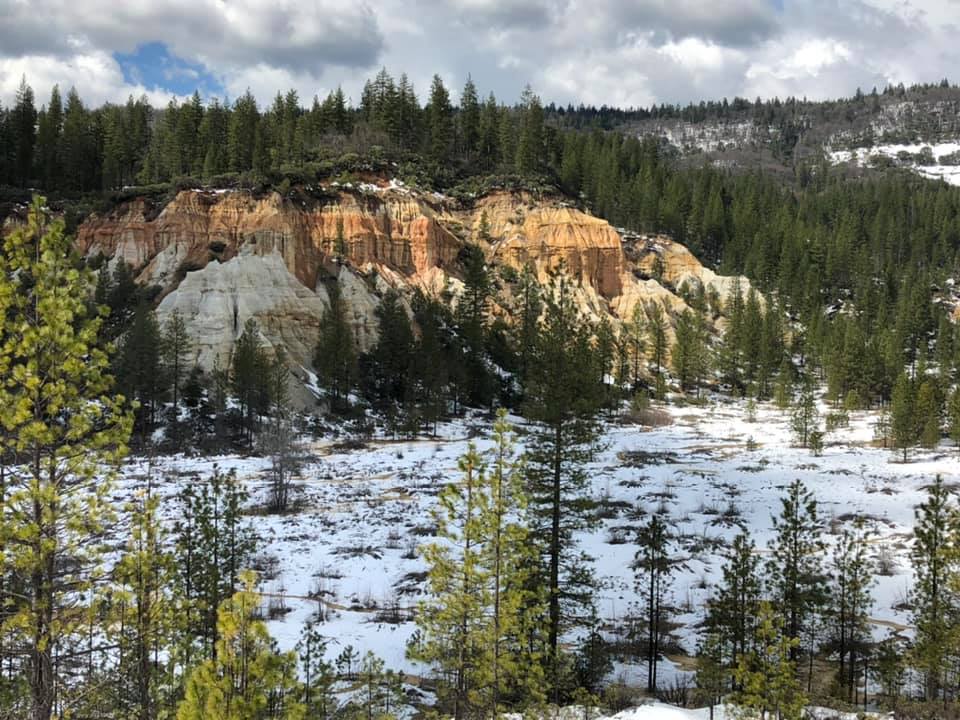 During the Gold Rush, several cubic miles of sediment and debris from the mines were dumped into the Yuba River, filling up the channels and causing widespread flooding in the Sacramento Valley and beyond. The devastation from the flooding led to the creation of California's first environmental law, the Sawyer Decision in 1884.
Today, visitors can see huge eerily beautiful cliffs carved by mighty streams of water, results of a mining technique that used powerful water cannons known as "monitors" that washed away entire mountains of gravel in the search for gold.
A Ghost Town Frozen In Time
In the heart of the park is a well-preserved 1850s-era ghost town with a general store, saloon, drug store, old homes, and white picket fences known as North Bloomfield. The visitor center is filled with history relics, and during the summer season, guided tours depart every afternoon. Each summer, the town comes alive during the annual Humbug Days with period reenactment, games, music, food and a parade the whole family will love.
If something a little quieter is more your style, hikers and mountain bicyclists seek out 20 miles of scenic trails offering rugged backcountry experiences that range from easy to strenuous and connect with the popular South Yuba River Trail.
Where To Camp
Overnight visitors can choose between a shady, restful campsite in Chute Hill campground or a rustic "Miners Cabin." The group campsite accommodates up to 60 people and must be reserved in advance.
CAUTION! During the summer months, watch out for rattlesnakes and poison oak.
Stop by the Visitor Center for maps and brochures.
Learn more here.
Sierra Gold Parks Foundation is a non-profit organization that supports park-related educational activities and helps to preserve the natural and cultural resources of Western Nevada County's State Parks.Learn more, here.
Donner Memorial State Park
At the heart of the ancestral Washoe homeland sits Donner Memorial State Park. Located 5 minutes west of Truckee, 15 miles north of Lake Tahoe, and just east of Donner Pass in the scenic Sierra Nevada mountain range at an elevation of about 6,000 feet.
This legendary alpine park offers summer camping, picnicking, boating, fishing, water-skiing and hiking. During winter, visitors can cross-country ski, snowshoe on trails, and play in the snow.
Explore the park and learn about the natural and cultural history by dropping into a ranger-led interpretive program. The park offers FREE guided paddling tours, mountain bike tours, junior ranger programs, historical tours, campfire talks, and park cleanups every week!
Commemoration Of The Pioneer Spirit
Visitors are welcome year-round to visit the famous Pioneer Monument, built to commemorate the California emigrants traveling west during the mid-1800s. Completed in 1918, the monument stands on the spot where the Schallenberger, and later the Breen family cabins (of the fateful Donner Party) once stood. Its base stands 22 feet high — to surpass the greatest depth of snow that may accumulate at the lake.
The Visitor Center features a gift shop and compelling exhibits that illuminate the Emigrant Experience, the Donner Party, the Land of the Washoe, Chinese construction of the transcontinental railroad, and early motoring adventures over Donner Pass.
Birding Anyone?
Listen for Steller's jays, nuthatches, dark-eyed juncos, and mountain chickadees among lodgepole, Jeffrey pines, and white fir. Stands of aspen can be found in interior areas of the park. It's just one of the many Bird Watching Northern California Hot Spots In Nevada County.
The park has over eight miles of hiking and over-the-snow trails in addition to 8 miles of shoreline. In Coldstream Canyon, remnants of the Emigrant Trail crosses, connecting to Tahoe National Forest Trails and the Pacific Crest Trail.
Stop by the Visitor Center for maps and brochures. Learn more here.