It's spring in Nevada County and that means glorious warm sunny days, lots of family friendly activities, and a beautiful mosaic of wildflowers! There are many ways to get up close and personal with the gorgeous flowers that pop up in a display of color. And all of them are fantastic for communing with nature, friends, and family.
When To Visit
Depending on weather, this annual riot of vibrant color begins around March in lower elevations and continues into June and beyond in the high country. Here's a few highlights of our favorite wildflower walks in Nevada County this spring. If you want to be a bit more knowledgeable on what you're seeing, we recommend stopping by one of our gear shops such as the Earth Store and picking up a local wildflower guide.
Buttermilk Bend Trail (South Yuba River State Park)
Distance: 2-mile roundtrip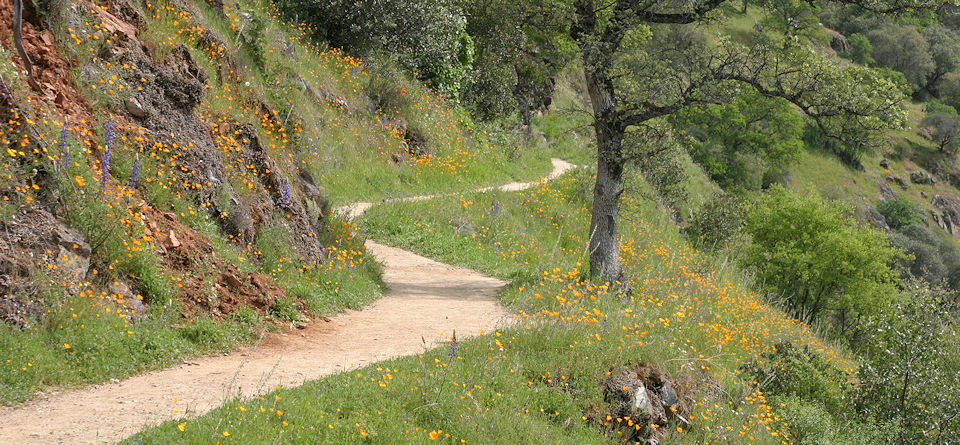 From March through April, wildflower peeping abounds in the Bridgeport area that skirts the South Yuba River. The hillsides along the Buttermilk Bend Trail feature an ever-changing tapestry of flowers that are in bloom. Early season species include delicate fairy lanterns and zigzag larkspur among others. By mid-season, the display turns into an orange and purple ground cover from tufted poppies and a variety of lupine. Another great option to take in wildflowers within the park is the Point Defiance Trail.
Embark on a self-guided walk, or better yet, on Saturdays and Sundays join docents that lead guided wildflower hikes. Starting in mid-March and lasting through mid-May, the docent guided two-hour journey highlights types of flowers and share facts as well as legends about the plants.
Independence Trail East
Distance: 4.4-mile roundtrip
Just under six miles northwest of Nevada City, you'll find the Independence Trail East, another goldmine for wildflowers. Utilizing the old Excelsior Ditch built around 1859 to carry water for hydraulic mining, the path has a gentle gradient throughout its journey. A family favorite, kids may see California newts swimming in the water as well as the blooming of Henderson's shooting star and Dutchman's pipe.
*Note that Independence Trail West and the main parking area are currently closed. Please park in the overflow/secondary parking area, take the wooden steps that lead up the bank, follow the connecting trail a short way, and turn left when you reach the main ditch trail.
Crystal Hermitage
Although not "wild", one of the most iconic displays of flowers happens at the Crystal Hermitage Gardens. Every April, they invite the public to tour their lush gardens which feature some 100 varieties of pink, purple, orange, and yellow tulips. Follow the beautiful paths that meander through pools and waterfalls as well as the award-winning chapel inspired by the Little Church of St. Francis of Assisi. What makes this place special though are its terraced garden beds. You won't find another hillside filled with tulips like this in the U.S.
Note: To ensure everyone has a peaceful experience reservations and a ticket are required to enter the Crystal Hermitage Gardens.
Sagehen Creek
Distance: 6-mile roundtrip
At the 6,000-foot elevation, wildflower viewing gets started after the snow melts. In an average snow year that means wildflower displays climax around June or even later. A good option at this elevation is Sagehen Creek, seven miles outside of Truckee. With an ascent of less than 300 feet across the path, it's perfect for runners as well as family friendly. Weaving alongside the bubbling stream, you'll find an abundance of mule's ear, camas, fawn lily, and much more botanical bounty, culminating at the Stampede Reservoir.