Nevada County is beautiful year-round, but autumn is just breathtaking. Compared by many to the foliage on the east coast, our towns, highways, and byways boast views around every corner that rival anything you'll find in Maine… and why we think we're home to some of the best fall colors in California.
Don't Take It From Us
We're not the only ones crooning about our fall foliage either. AAA's official travel magazine VIA published an article titled Fall Weekend in Gold Country, Grass Valley, California showcasing everything about this time of year. It highlights the beautiful fall foliage found in the town, along with other activities and dining suggestions. Also, Fox 40 News in Sacramento did a segment on Where to Find the Best Fall Foliage and highlighted Nevada City as one of the best places to do so in the region.
Why Go?
Besides the many accolades fall provides, it's the opportune time to visit if you're a responsible traveler. You don't have to worry about traffic and parking in the historic downtowns of Truckee, Grass Valley, or Nevada City. Popular trails are now peaceful strolls that Henry David Thoreau would savor. Framed with the gold and amber hues of oak and elm trees while the historic landscapes of Nevada City and Grass Valley are afire with intense maple reds. A perfect chance for you to go forest bathing. And for those budget conscious travelers, many of the lodging partners provide great deals for this time of year as well. This is only but a sampling of why you should visit Nevada County in the fall.
Perfect Weather
The best part about fall is how perfect the weather is for outdoor fun. Normally when you think of September, October, or even November, it's all about cold rainy days. Not here in Nevada County. The summer's heat is gone. The sun is still shining, and evenings are cool, but the days are still warm. It can be argued that the weather is the best season for outdoor activities. Go hiking in the morning, head out for a bike ride over one of the passes in the afternoon, and finish it off with a wine tour.
Where To Start
How do you best enjoy the most beautiful season in Nevada County? Here's four ideas to get you started:
1. Take The Self-Guided Fall Colors Tour
Nevada County has some of the most breathtaking fall foliage on the west coast. Take the Nevada City and Grass Valley Fall Colors Tour while enjoying all of the great things our towns have to offer. Pick up a to-go picnic at one of our local restaurants or farmers markets, find a good spot, and enjoy the splendor of autumn. You can download fall foliage map here.
2. Take a Hike
Hiking is always a popular activity in Nevada County, but in the autumn with the leaves turning, it is just breathtaking. One great trail to appreciate the colorful foliage is the Deer Creek Tribute Trail, which you can catch right in Downtown Nevada City (but really, any hiking trail you choose is spectacular). Another upside is that you can stop for a cocktail at Golden Era or a coffee or hot chocolate at Java John's after your hike and talk about what an amazing adventure you had.
3. Take a Drive
Once upon a time, families would pile into their cars and take Sunday drives. What better time to revive this classic American tradition. Meander through the Victorian neighborhoods stemming from the historical hamlets near and around Pioneer and Memorial Parks. The Truckee River and Martis Valley also come alive with deep oranges, yellows, and reds – you can pass through Martis Valley to get to the popular picturesque shack encompassed with aspens on Highway 267.
4. Visit a Pumpkin Patch
Bierwagen's Pumpkin Patch and Harvest Festival is always a family favorite. The Bierwagen Family Farm has been in existence since 1902 and has been family-owned and operated for more than a century. The pumpkin patch has been going for the last 25 years and has become a favorite of locals and visitors alike. Be sure to have some of their homemade cider, take a wagon ride, and get yourself a pumpkin. Admission is free and the pumpkin patch is open every day in October except Mondays.
When To Go For Fall Colors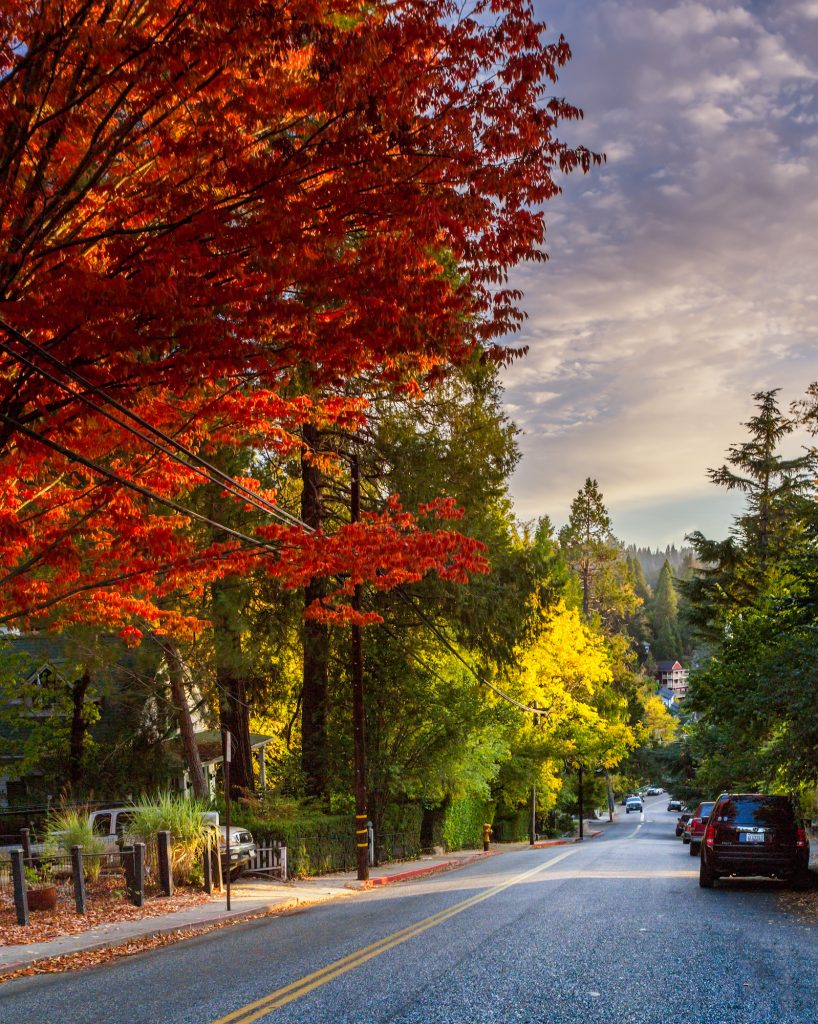 Just like any natural phenomenon, timing is essential. Fall color in the High Sierra surrounding Truckee arrives around the middle of September and peaks through October. Then from mid-October through much of November, vibrant maples, oaks, and liquidambars adorn the Sierra Foothills of western Nevada County. Local colors are best in the Victorian neighborhoods surrounding the historic downtown areas. Cooler weather and the changing colors of the landscape make a fall visit to a state park a memorable experience. Grass Valley is especially pretty from higher vista points. Nevada City colors are centered in a smaller area and may be more easily enjoyed by foot or bicycle.
Monitor Progression
To make sure you hit the fall foliage at its peak, we recommend you begin to monitor the progression of fall colors from the beginning of September onwards that provide updated reports for our area. Experienced fall foliage guests follow californiafallcolor.com and Truckee's daily fall color report which give you real time fall colors information so you can visit when the colors are best.
Among the most popular sites are:
Truckee
In addition to the fall colors, it's an ideal time to escape the doldrums of daily life. The calendar is filled with fun fall festivals and events along with the best time of year to go fly fishing.
Martis Valley
Truckee River Legacy Trail
Donner Memorial State Park
Emigrant Trail
Pacific Crest Trail
Donner Rim Trail
Nevada City
Nevada Street
Highway 20 to 49
Buckeye Hill
Park Avenue
Aristocracy Hill
Grass Valley
Neal Street
Empire Mine State Historic Park
Memorial Park
Butler Avenue
Golden Center Freeway
Hidden Gems
From Pumpkin patches to Mother Nature's fireworks along with pleasant temps, it's more than enough reason to head to Nevada County this fall.