Are you tired of going out to the same old movie theatre or bowling alley on dates? Why not try something a little more adventurous? Here are 8 Date Ideas Under $50 In Nevada County. Some even cost nothing! Don't believe us? Here's a small sample of exciting things to see and do with that special person in Nevada County.
#1. Get Out And About
Nevada County is one of the most beautiful places in the world to explore by foot. You can hike beside tranquil alpine lakes, admire sparkling waterfalls and granite outcrops, and follow in the footsteps of those miners of '49.
Look Back In Time
If you hit the trails through the Empire Mine State Park, you can investigate the old gold mining sites and ruins left behind. Alternatively, you could head over to the remains of the largest hydraulic mine in the Union by following the trails through Malakoff Diggins Historic State Park. That's where you'll find the abandoned gold rush town known as "Humbug."
A Beautiful Scar
The gorgeous cliffs of Malakoff Diggins stand as testimony to the environmental damage caused by the reckless greed for gold. While destroying the mountain here, the North Bloomfield Gravel Mining Company released tons of gravel and mud that clogged major rivers and turned productive farms downstream into desolate wastelands.
Meander Through Forests
Today, you and your beloved can relax as you meander past the majestic oaks, cedars, and pines that thrive in the Sierra Nevada foothills. For more ideas about hiking around Nevada County, check out the free maps of the trails around Nevada City on the Bear Yuba Land Trust website.
#2. Have Fun In The Snow
When the snow falls and hiking becomes impossible, what do you do? Simple! Stick snowshoes over your boots and keep going!
Strap Into Snowshoes
If you've never snowshoed before, you've missed a treat. Snowshoes enable you to hit those hiking trails when everybody else has given up and gone into hibernation for the winter. Don't own a pair? No problem rent snowshoes from Nevada County's gear shops and explore the Tahoe National Forest surrounding Truckee for FREE.
Learn From The Pros
If you're not confident about using snowshoes, don't worry. You can take introductory lessons from experts at several ski resorts around Nevada County, such as the Royal Gorge Cross-Country Resort. Royal Gorge also features dedicated snowshoe trails that provide stunning views of snowy ravines and old-growth trees.
#3. Go A Little Faster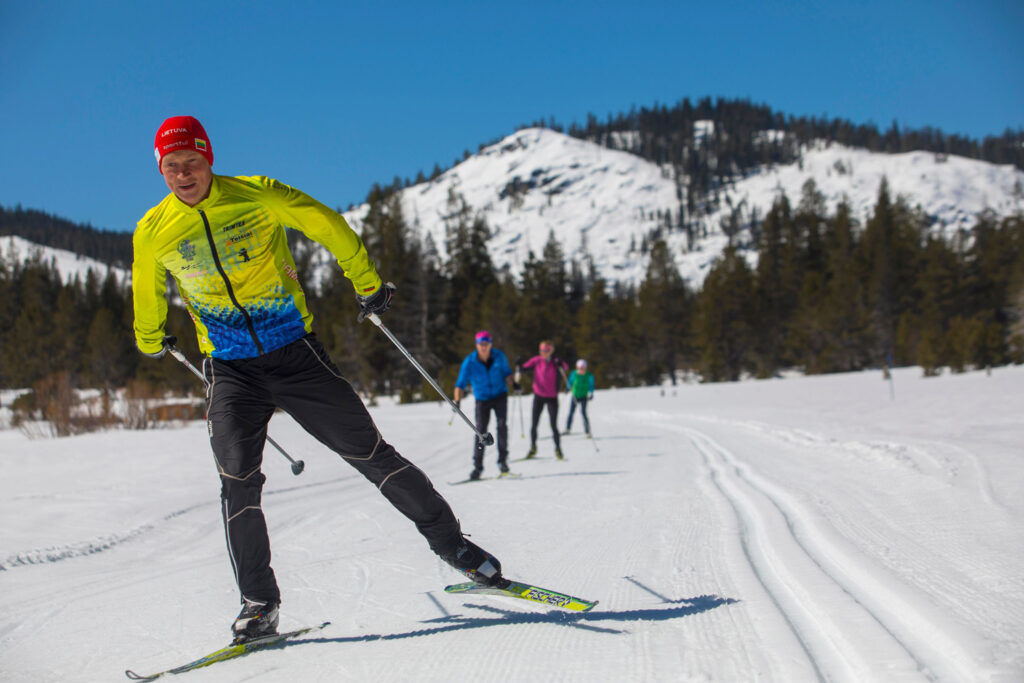 If you and your partner want to speed things up a little, why not try classic cross-country skiing? Royal Gorge offers 32 miles of groomed, tracked trails and beginners' classes to get you going. Once you're up and running, you can rent skis, snowshoes, and other state-of-the-art equipment from Royal Gorge or any other ski resort around the county. The resort even has dog-friendly trails so furry best friend won't feel left out.
#4. Try A Get Rich Quick Scheme
Okay, we lied. You won't get rich. But experts estimate 80% of the gold mother lode in the Sierra Nevada hills still remains hidden away just waiting to be found. So why don't you try your hands at gold panning for a fun day out?
If you want to learn how to sift gold from gravel, grab your partner and head on down to South Yuba River State Park. During the summer months, resident docents will demonstrate how the '49s used metal pans to find treasure in the Yuba River.
You can get step-by-step panning lessons from the docents while at the same time learn about the history of the area and the California Gold Rush. Once you've perfected your technique, it's time to hit the Yuba River and search for gold. And when you find the next Fricot Nugget, remember…finders keepers!
#5. Go Joyriding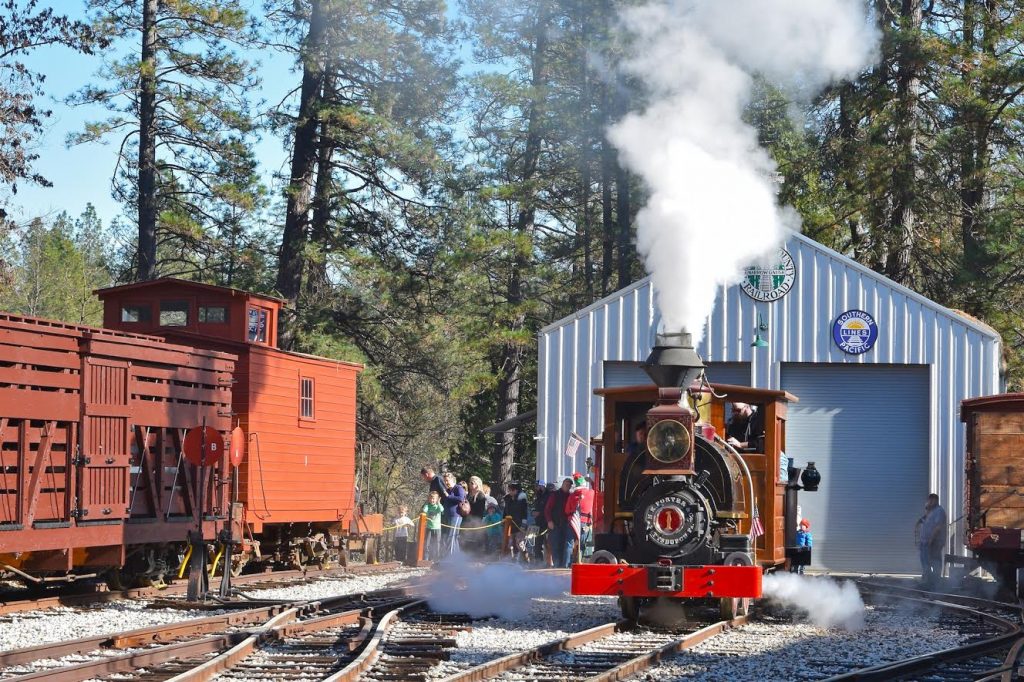 There are few forms of transport more romantic than a train, and you and your beloved can view a magnificent collection of old steam engines and rolling stock at the Nevada County Narrow Gauge Railroad and Transportation Museum.
This small but fascinating museum provides a tour through the rail yard and restoration workshop where you can see dedicated volunteers restoring treasures from steam's golden years. There's also a free and fun railbus ride that runs on Saturdays only. However, this joyride is very popular and you must book in advance with the museum.
The Nevada County Narrow Gauge Railroad was an important link to the wider world during the California Gold Rush. When the President of the railway passed away in 1901, his wife, Sarah Kidder, became the first female railroad president in history. She lived in an opulent mansion in Nevada City, the ruins of which you can still see today.
#6. Check Out The History In Nevada City
Have you ever wandered around the streets of Nevada City? The Nevada City Downtown Historic District is awash with 70 fantastic historic structures. The buildings within the 16-acre district date from between 1856 and 1917.
One of our favorite buildings is the Firehouse No. 1 Museum, with its stunning bell tower and Victorian façade. In 1861, this was the home of horse-drawn fire wagons and handcarts. Now it serves as a museum operated by the Nevada County Historical Society and is the most photographed building in Nevada City. The museum holds many of Nevada County's hidden treasures including a Nisenan exhibit offering a wide range of cultural items including watertight baskets, ceremonial feather dance collars, arrowheads, hand game bones, pounding stones and an extensive photo display.
#7. Go To The Theater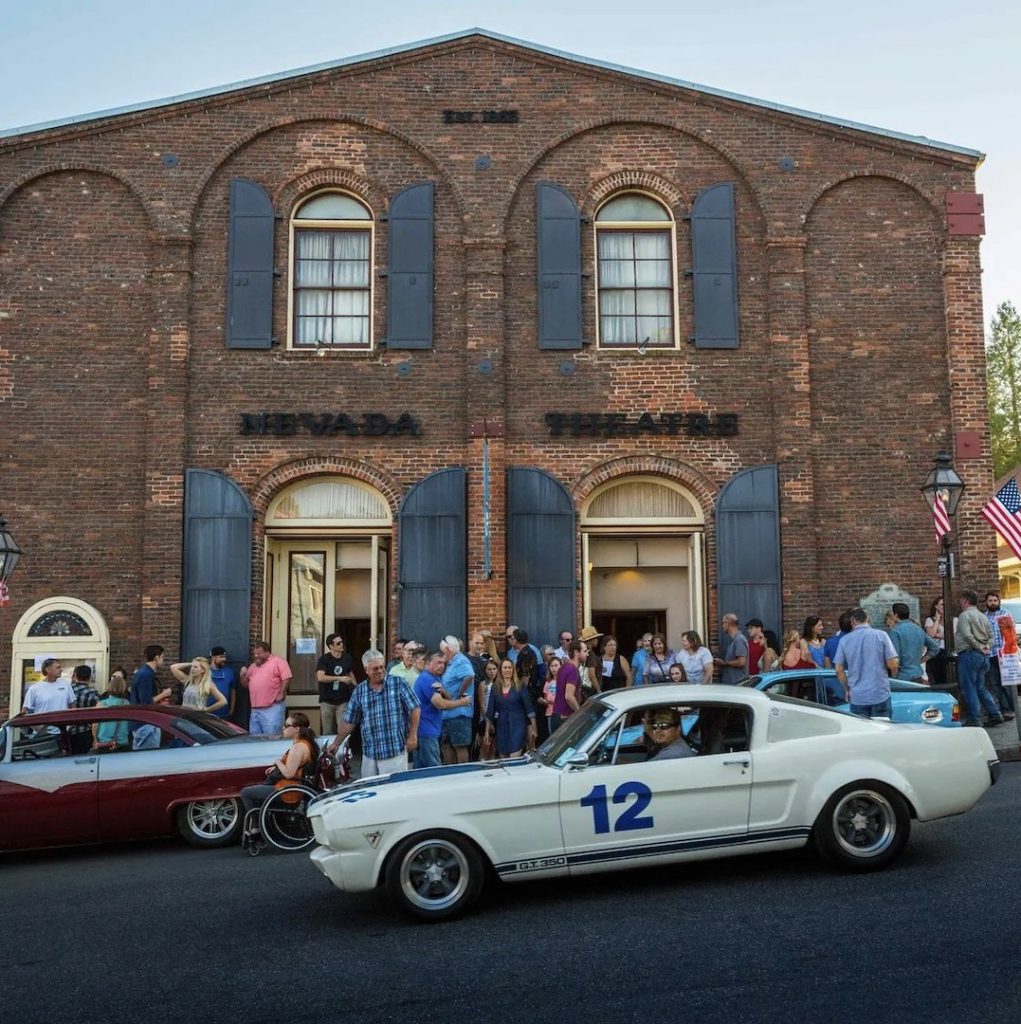 Another building of special note in Nevada City is the Nevada Theatre, opened in 1865. This is where Mark Twain lectured before he became famous and the first silent movies in the county were shown. Some interesting people have entertained the public in this popular venue, including the heavy metal rockers Mötley Crüe.
Nevada Theatre is still entertaining the masses today. You can watch a play or listen to a live concert. Why not see if they have anything interesting in their schedule for your next date?
#8. Take To The Water
Nevada County offers plenty of options for you and your sweetheart to play on the water. There are lots of lakes, reservoirs, and streams to choose from. And reputable organizations like Mountain Recreation provide kayaks and stand-up paddleboards (SUP) for rent.
Donner Lake in the Donner Memorial State Park is an alpine lake that is especially popular for both fishing and water sports. Why not take your rented kayak or SUP there?
What Are You Waiting For?
As you can see, there's lots for you and your darling to do in Nevada County. So, forget about that tired old movie theater or bowling alley and get over to Nevada County. Now you have 8 Date Ideas Under $50 In Nevada County. Do something interesting for a change!